Flakturm, Abstracted
Sebastian Lehner
Flakturm, Abstracted, 2019
cardboard, colorful papier-mâché
121 x 79 x 38 cm
The sculptural installation Flakturm, Abstracted (2019) concerns Austria's National Socialist past on the basis of the Vienna flak towers (Flaktürme). It proposes a new way to approach a difficult and dark cultural heritage such as giant, irremovable objects that remind one of Austrian complicity in the horrors of WWII.
Flakturm, Abstracted (2019) is a sculpture of the Esterhazypark Leitturm…as a Piñata. Consisting of cardboard and colorful papier-mâché, this piñata is a Flakturm that can be "smashed to pieces" in a playful act.
Through Flakturm, Abstracted (2019), tension and resolution are closely combined in a form of active engagement, that represents a society struggling to come to terms with its past.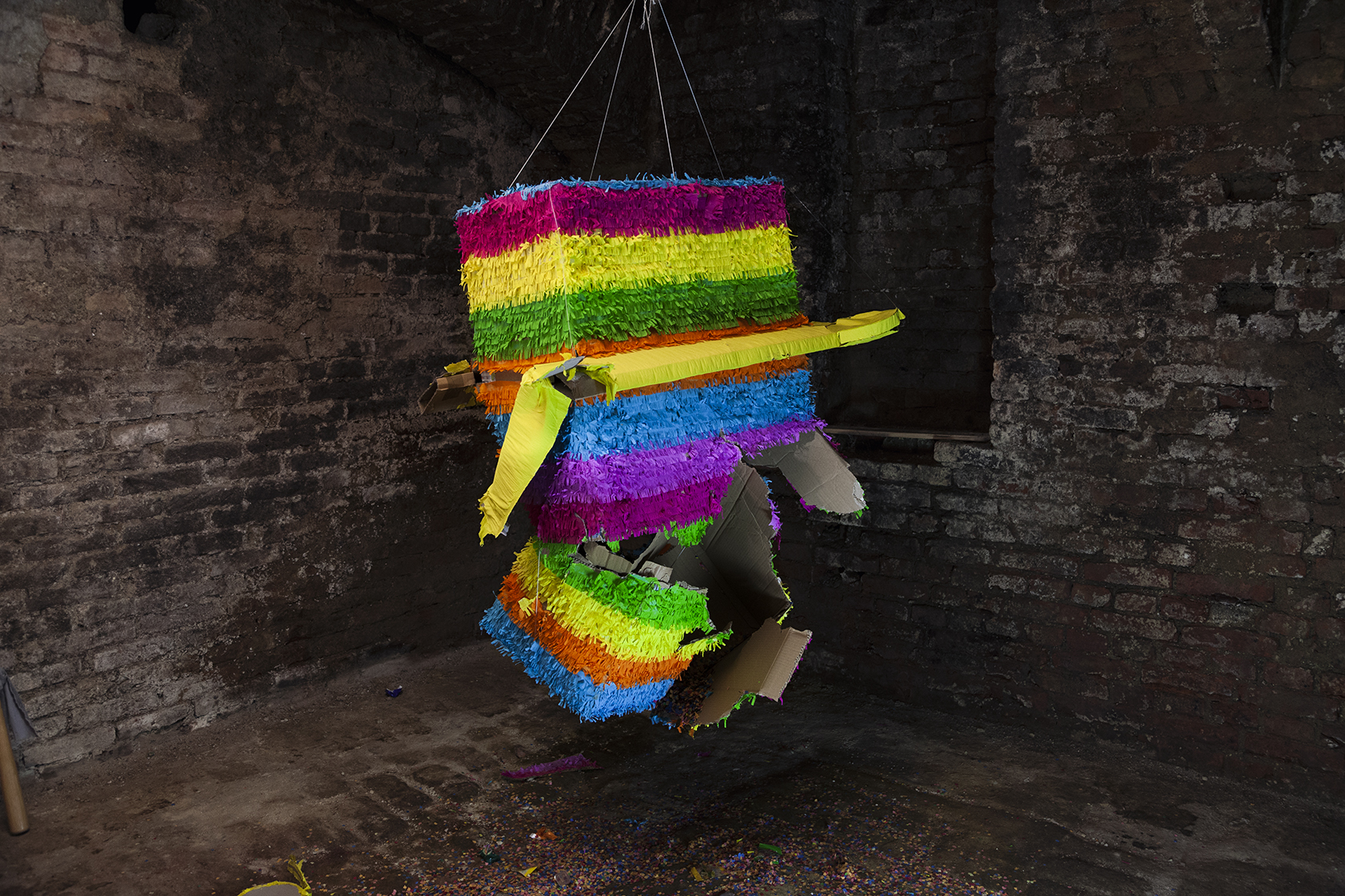 Die skulpturale Installation Flakturm, Abstracted (2019) beschäftigt sich anhand der Wiener Flaktürme mit der nationalsozialistischen Vergangenheit Österreichs. Es wird hinterfragt, wie kulturelle Werte aus dem Kontext ihrer Tradition gerissen, und somit ihrer Aura entledigt werden können.
Für die die Arbeit Flakturm, Abstracted (2019) wurde aus den sechs in Wien errichteten Flaktürmen, jener aus dem Esterhazypark nachgebaut. Bestehend aus Karton und buntem Pappmaché ist die Flakturm-Piñata ein, in Materialität und Funktion, abstrahiertes Objekt, welches in einem spielerischen Akt, im Gegensatz zu dem tatsächlichen Bau, zerschlagen werden kann.
Die Arbeit Flakturm, Abstracted (2019) macht sichtbar, was gerne in Vergessenheit geraten möchte. Anspannung & Auflösung liegen dabei nah beieinander und legen den Konflikt offen, den eine Gesellschaft im Bezug auf seine Vergangenheitsbewältigung mit sich trägt. Die Flakturm-Piñata ist etwas Unpassendes.